Posts Tagged 'access number'
Good news LoadCentral Retailers!
The latest version of the LoadCentral Android app is now available for download. LoadCentral retailers can now transact online using their android mobile phones in a breeze! No need to memorize the product codes.
Please go to bit.ly/LC_AndroidApp to download the app on Google Play Store.
Kindly note that the SMS feature is not available due to changes in the Google Play Store permission policy.
Here is the solution/answer to the issues raised by the early users of the latest version:
Your device isn't compatible with this version error in google play:
The new app version only supports Android version 8.0 and above.
Incorrect login credentials:
Login password is the same with the old version, it should be FL (SMS) password.
Account is already paired with another device:
Probably, your retailer account / Device ID is still linked to the old version of the app. To reset the android app usage, compose this message RESETDROID "FL/SMS password" (example: RESETDROID 123456) then send it to the LoadCentral access number 09229990214 using your LoadCentral registered sim
Do we need personal load or internet connection to be able to use the app?
The application requires you to have an internet connection.
Is it instant just like the webtool? Or with delays like when sending SMS keywords?
SMS-based functionalities have not been included in the new version due to some changes on Google's permission and policy. The new version should perform like the webtool since the app is using data/internet to connect to the LoadCentral system.
Will it display the PIN details just like on the webtool?
Same with the old version, the PIN will not be displayed on the new version.
Is it available on IOS?
Unfortunately, it is not.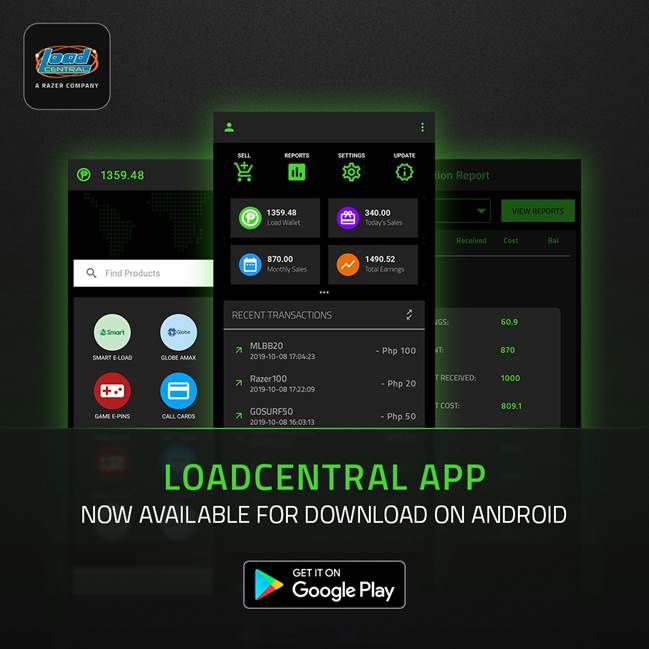 Was this post helpful? Rate it!






(8 votes, average: 4.13 out of 5)


Loading...
All our four (4) back-up access numbers are now active: 0920-9456856, 0920-9456857, 0917-8662418, and 0922-8504340. Please inform your dealers, sub-dealers and retailers to use these numbers until our new Sun SMS gateway 09229990214 has stabilized. Thank you.

Was this post helpful? Rate it!






(2 votes, average: 3.00 out of 5)


Loading...
The vanity number 2948 will not be available anymore. From now on, please use the new SMS Access # 09229990214. Starting December 15, 2011, all back-up access # will be disabled. Please also take note that loading through these access # is not free. That's why LoadCentral is recommending retailers to enrol to the Unli offering of their telcos or use the webtool.

Was this post helpful? Rate it!






(2 votes, average: 5.00 out of 5)


Loading...
Please be advised that 2948 is no longer available. Please refrain from using 2948, you will be charge P2.50 per transaction.
Instead use the new ACCESS # 09229990214. It's direct to SUN SMS Center. Use UNLI text to all network para sulit ang transactions/day. Old access #s will be disabled tomorrow (Dec. 15, 2011).
We apologize our system enhancement is still on going. We look forward for the completion before the year ends. Thank you.

Was this post helpful? Rate it!






(3 votes, average: 5.00 out of 5)


Loading...
Attention to all LoadCentral Retailers. Please note that the vanity access code 2948 is not working to all networks as of this writing. If you are using SMS to sell eloads, kindly use the webtool or send to the following long LoadCentral Access Numbers instead:
Smart – 09209456856, 09209456857
Globe – 09178662418
Sun – 09228504340
To all Dealers and Sub-Dealers: 2948 is currently offline. Please inform your SMS-based retailers to use the back-up access numbers. They should enrol to the Unli offering of their telcos.

Was this post helpful? Rate it!






(1 votes, average: 5.00 out of 5)


Loading...