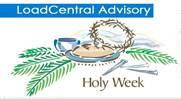 In the observance of the Lenten Season, there will be no deposit verification and walletload replenishment on Apr 2 – 5, 2015 (Thursday – Sunday).
Normal operation resumes on Apr 6, 2015 (Monday).
To avoid inconvenience, kindly load your walletload accounts in advance.
For your guidance.

Was this post helpful? Rate it!






(4 votes, average: 5.00 out of 5)


Loading...