Posts Tagged 'Retailership'
LoadCentral Dealership / Retailership Program:
What is LoadCentral?
LoadCentral is a centralized distribution/reloading system which allows retailers to sell Globe and Smart electronic load (E-Load) and electronic PINs (E-PIN) of various prepaid card products to customers through a cellphone or webtool.
Who uses LoadCentral?
There is Netopia, the most popular retailer of LoadCentral. If you're an online gamer, most likely you have already bought a load from LoadCentral through a Netopia branch. Other establishments like Flying V and Copy Unlimited have LoadCentral for their loading station. Internet cafes in various parts of Metro Manila are starting to adopt the LoadCentral loading system.
Can I use LoadCentral for my personal prepaid needs?
Yes. In fact, I highly encourage prepaid consumers like online gamers and prepaid cellphone users to use LoadCentral so you can avail of your favorite prepaid products at a discounted price!
Will the LoadCentral Dealer issue or sell a Retailer SIM?
No. Any mobile number (Smart, Talk N' Text, Globe, Touch Mobile, Sun) can be registered by a LoadCentral Dealer as a LoadCentral retailer number.
Can the same retailer number be registered to two or more dealers?
No.
Can a retailer register another retailer?
No. Only LoadCentral office or a dealer can register a sim to become a retailer.
When can a retailer start selling the LoadCentral way?
A retailer can start selling the LoadCentral way after the LoadCentral dealer registered your mobile number and after you replenish your load wallet.
How to Sell Loadcentral Products?
Retailers can sell eloads through a.) SMS by using keywords then sending it to a LoadCentral Access Number; and/or b.) the WebTool
What are the LoadCentral Access Numbers (LCANs)?
Click here to view available LoadCentral Access Numbers for SMS requests. If your registered mobile phone number is a Globe/TouchMobile sim, I suggest you use the Globe LCAN to take advantage of your free text credits.
How will I know about the discounts given by LoadCentral?
Check the latest post update. LoadCentral Discount Structure can be downloaded in the Download Materials section.
What happens if my retailer SIM and/or mobile phone are lost or stolen? What happens to my remaining wallet load?
You must immediately notify your dealer so she can deactivate or block your mobile number. You must then ask your dealer to register another mobile number as your new retailer SIM. Your dealer will then inform LoadCentral by a written notice (fax or email) and request that the remaining balance in your old registered number be transferred to your new one.
What happens if I forgot my password?
You should ask your Dealer to request from Uniwiz Trade Sales Inc. for the resetting of your password. Uniwiz will not entertain direct request from retailers.
How can I get a transaction report?
You can use the webtool for the transaction report or you can ask your dealer for a copy of your transactions.
How to change my password?
Send CHANGEPW [old 6-digit password] [new 6-digit password] to a LoadCentral Access Number (LCAN)
What to do if I receive an Invalid password supplied error when logging in to the webtool?
Please make sure that you entered your 6-digit password which you assigned when you confirmed your registration.
What to do if I receive a " User XXXXX not found " error when logging in to the webtool?
Please make sure that you used the 639xxxx format of your mobile number for your webtool username.
What should I do if the buyer does not receive the product electronic PIN (E-PIN) with his mobile?
You can use the resend function on the webtool. Please be aware that you can only resend the last transaction for your buyer's mobile number.
Can you restrict the IP address where I can access the webtool?
Yes. Currently, all retailers are set to access the webtool from any IP Address. If you wish additional security access, I can restrict your access to the webtool from a particular IP Address.
Why is my account always blocked?
Our system automatically locks the webtool of LoadCentral accounts that were not changed for a while. To unlock your account: create a new message on your LoadCentral registered mobile phone, type UNLOCK (space) password then send to our official Access Numbers. You must also have different passwords for your SMS and Webtool-based transactions so your Webtool access will not be locked.
What should I do if I receive a Sale Transaction not successful, Service that dispenses product may be temporarily unavailable or incorrect Mobile Number Recipient. Please try again later error after trying to send an electronic load (eLoad) to a mobile number?
Please make sure that the mobile number is compatible with the eLoad product you selected. Use Globe Amax for Globe numbers, Touch Mobile Amax for Touch Mobile numbers and Smart eLoad for Smart or Talk N' Text Numbers.
Buying eLoad:
How do you sell prepaid products?
Our system is powered by LoadCentral platform, the most successful distribution solution provider for all prepaid services in the Philippines. We use it to dispense and retail all kinds of prepaid card products. We are official LoadCentral retailer.
What are the prepaid products you sell?
We have more than 360 various prepaid products such as mobile eloads, call cards, gaming cards, internet cards and cable TV subscriptions. You can download our complete list of products here.
What are the payment options accepted?
We accept payments through Paypal, Alertpay, and LibertyReserve.
Do you accept credit card payments?
Yes, we accept credit card payments via Paypal and Alertpay.
How secure is my transaction?
When you purchase prepaid products, all your transactions are safe and secure. Your personal data is never available to us. We have no access to your personal data such as the name and the number on your credit card. They will be processed by 3rd party payment processors like Paypal, Alertpay and LibertyReserve. The only information we receive is a confirmation from the Payment Processor that your payment went through and the mobile number you want the load credits to be sent to.
How do I purchase prepaid products?
You just need a valid Paypal, Alertpay or LibertyReserve account. Please follow these simple instructions to make a purchase.
When will my purchase be processed?
Our business is open from 8:30AM to 5:30PM (GMT+8) Mon-Fri. All transactions will be processed within the business hours. Beyond that, all unprocessed transactions will be put on queue and will be processed on the next business day. Load credits are usually sent as soon as we received the confirmation from the Payment Processor that your payment went through. If you did not receive your load credits an hour after sending your payment, please contact us as soon as possible so we can check the transaction. Please take note that we may ask you to provide some identifications during the verification process if we deem necessary.
Do you issue receipt?
Yes. You will receive an email from your Payment Processor confirming your payment. This will display the details of your transaction. Please be aware that sometimes this email may be delayed. Buyer will also receive a confirmation SMS from LoadCentral containing details of the product purchased.
I've paid the wrong amount/product – can I have a refund?
If you have entered a wrong product or incorrect recipient's number or overpaid us, please contact us as soon as possible so we could refund you if your purchase is not yet processed. If load credit is sent to the recipient already, we can no longer give a refund. LoadCentral Philippines is not responsible for eload sent to wrong recipient due to incorrect data provided by buyers.
A LoadCentral Retailer is a one-stop reloading station that can sell prepaid products (e-load, prepaid load, prepaid call cards, prepaid internet cards, online gaming cards, etc.) without having any sort of physical cards in their possession. Retailers can sell prepaid airtime credits through a mobile phone or computer with internet connection.
As a LoadCentral retailer, you will earn commissions and make sales from the reloading services that you sell to customers. Your earnings will come from the discounts you would get. The more loads you sell, the more earnings you get.
Complete information needed to be a LoadCentral Retailer:
Please provide all the necessary details needed for your registration. Send the following information through this form.

Note for LoadCentral Retailer:
We do not sell Retailer sim cards. Any valid cellphone number can be registered as a Retailer sim.
Registration is free. Registration will be processed as soon as we have received the completed form.
Additional Instructions and codes will be sent to the email address you provided after registration is complete. So provide a valid email address only
Initial loadwallet credit of Php100 should be done within 5 days after retailer SIM activation to avoid retailer account being locked.
Newly registered LoadCentral retailer needs to change passwords before 12 midnight Manila time. For security purposes, LoadCentral's system automatically locks all newly registered accounts that have not yet changed their default passwords. SMS (FL) and webtool (SL) passwords should not be the same.
When your application request is processed, you will receive the following text message :
You are now a Retailer of 639xxxxxxxxx. Your password is 123456. To change, type- CHANGEPW, send to LoadCentral access #.
If you wish to change your password through SMS, create new message and type CHANGEPW and send it to the official LoadCentral Access Numbers. You can also change your password through internet by logging into the LoadCentral webtool. Please note that your password must be a 6-digit alphanumeric, full alpha or full numeric characters.
FL – First Level password (sms password) – can be changed via SMS only
SL – Secondary Level password (webtool password) – can be changed via webtool
Now all you need to do is load your retailer wallet to start selling prepaid products. You can check the benefits of a LoadCentral retailer here.
These are Features and Benefits of being a LoadCentral Retailer
FREE registration or NO joining fee
Can be used for personal consumption.
Can register any active prepaid or post-paid mobile phone from any of the carriers (Smart, Globe and Sun)
Minimum capital needed. No maintaining balance on Load Wallet
2 ways of selling eloads and e-PINs: via SMS or PC with internet connection using the LoadCentral Webtool.
hundreds of prepaid services to sell – prepaid cards, phone cards, load cards, call cards, internet cards, etc
e-Pins of International Online Games like Pirate King Online and Acclaim Games – 9Dragons, 2 Moons, Bots and Dance, the fastest growing online games in the country is ONLY available at LoadCentral.
Can view transaction reports online
No need to worry about card inventory and card expirations
Capital not tied up to any specific prepaid product
System-generated sales transaction report
No monthly quota to meet
Friendly and Simple SMS Command
1. LoadCentral Retailer types the Product Code that the buyer (end-user) chose and paid for. Then send the text message to any of the LoadCentral's Access Number.
< PRODUCT CODE > <6-DIGIT PASSWORD> < MOBILE # OF BUYER >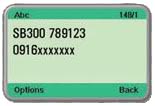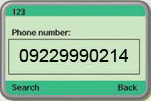 2. Retailer and Buyer get a confirmation message from LoadCentral.
Message to Retailer:
You have succesfully made an e-pin sale (Product Code) to (Mobile number of buyer). Your wallet balance is Pxxxx.xx. Trace #: xxxxxxx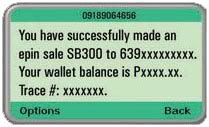 Message to Buyer:
You have purchased (Product Code) (PIN). Thank you for using our service. Trace #: xxxxxxx